Our work speaks for itself.
From simple websites to customized
web applications, we strive to provide
the highest quality possible.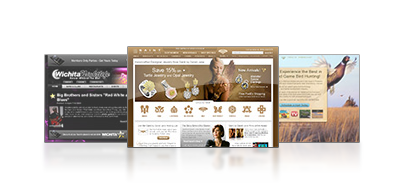 View Our Work
Do more with your website.
Run your business more effeciently by
streamlining your internal processes
with a custom web application.
Learn More
On time, on budget, on target.
From start to finish, you can count on us
to get the job done right and on schedule.
Call us at (316) 425-0260 for a free consultation.
Contact Us
We analyze your current site, get input from you, then give you a web design that you can be proud of.
We can build any kind of website, but we specialize in custom E-Commerce / Shopping Cart Solutions and Search Engine Optimization.
Contact Us Today for a free website consultation.